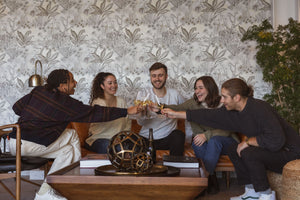 Private & Corporate Tastings
Because Champagne makes everything better!
Immerse yourself in an unforgettable journey through the world of bubbles with our bespoke Champagne and sparkling wine tastings.
Personal: Whether you're celebrating a birthday, hosting a girls' or guys' night, or simply desiring an enjoyable evening, our sparkling wine tastings are the ideal choice.We bring you exquisite bubbles and accompaniments; all you need to bring is your company of friends!
Office: Elevate your upcoming corporate event or special celebration with an exclusive Champagne and sparkling wine tasting. We specialize in crafting engaging and delightful experiences for your business. Ranging from intimate receptions and office soirées to client recognition events and illuminating bubbly seminars, we ensure a memorable encounter for all.
Our tastings are flexible and adaptable based on the size of your group, the chosen theme, and the selection of bottles. We offer three distinct Tasting Levels to build your event from, or if you prefer, we can tailor a unique theme to suit your group's particular taste or interests.
Discover the world of sparkling and let us create a memorable tasting experience for you and your guests!
Virtual events options are also available and bubbles can be provided.
Inquire About Tastings Here